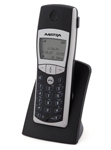 Powerful Features and Performance in a SIP based DECT Enterprise Mobility Solution

Employing the latest DECT 6.0 technology, the SIP-DECT Solution from Aastra offers superior levels of interference-free performance, security and reliability in a cordless SIP telephone system. This scalable, enterprise grade, mobility solution allows users to take the features and voice quality of their desk telephone with them throughout their office environment or related branch offices serviced by the same Corporate network. DECT technology virtually eliminates issues of dropped calls, interference, security and range by employing IP DECT access points that seamlessly "handoff" calls and enable roaming. This system is ideal for any single or multi-location business, retail or institutional setting that requires mobile employees to be available to take or receive calls at any time.

Features
Seamless Mobility
DECT 6.0 technology offers reliable, high quality, secure voice access throughout a building or across a Corporate network with full roaming support. Handsets act as normal company extensions, allowing staff to be reached in both headquarters and branch office locations. Employing advanced authentication/encryption technology, DECT is constantly monitoring transmissions and will automatically adjust channels to avoid possible interference.

Feature Rich Handsets
The SIP-DECT 142 handset is a powerful tool for business communication on the go. Featuring a 5-line illuminated display with two softkeys for feature access, illuminated keypad, a variety of informational status displays, SOS key for an emergency speed dial number, caller/directory and redial lists, the handset also offers hands free operation, built in speaker and headset jack.

Scalability
The Aastra SIP-DECT system, using DECT 142 handsets and RFP 32 IP DECT access points, can grow as your business expands. By simply adding additional handsets and access points, the Aastra SIP-DECT solution can easily expand to meet changing business requirements. Up to 512 handsets can be deployed using up to 256 IP access points.

Simple Deployment
Aastra's SIP-DECT solution can be easily deployed in most open-standard IP environments including; Hosted or Premised based using a SIP based IP-PBX, Hybrid PBX or Open Source PBX. The solution requires limited engineering planning and is managed by OpenMobility Manager (OMM) software and provisioned on the SIP based infrastructure as simple SIP Extensions. The OMM can be installed on the DECT access points, a PBX or a Linux server.
phone,phones,fon,fons,phone jack,fax jack,jacks,tele,telephone,telephones,office phone,office phones,office telephone,office telephones,business,business phone,business phones,business telephone,business telephones,office,phone wire,phone cable,phone cabling,phone wiring,telephone wire,telephone wiring,telephone cabling, telephone cable,business telephone system,business telephone systems,telephone system,telephone systems,phone system,phone systems,service,fon service,telephone service,phone service,solutions,phone solution,phone solutions,telephone solutions,telephone solution,phone help,help,help with phones,help with phone wires,help with phone service,help with phone repairs,telephone repair,phone repair,cabling repair,copper wire repair,network repair,buy a phone,buy a telephone,purchase a phone,purchasea phone system,phone consultabt,telephone consultant,install,install phone,install phones,install telephone,install telephones,install fon,install fons,phone installers,telephone installers,phone wire installers,telephone wire installers,phone cable installers,phone wire installers,phone dealer,dealer,telephone dealer,phone dealers,telephone dealers,fon dealer,fon dealers,phone price,phone prices,telephone price,telephone prices,rent phone,rent phones,rent telephone,rent telephones,lease phone,lease telephones,lease phones,lease telephone,voicemail,ivr,voicemail to email,unified messaging,operator,operators,message systems,voice,voices,voice cable,voice cabling,voice wire,voice wiring,corded phone,corded phones,corded telephone,corded telephones,cordless phone,cordless phones,cordless telephone,cordless telephones,vintage phone,vintage phones,vintage telephone,vintage telephones,wireless phone,wireless phones,wireless telephone,wireless telephones,phone for sale,phones for sale,telephon for sale,telephones for sale,best phone,best phones,best telephone,best telephones,telephone number,telephone numbers,phone number,phone numbers,the phone,the phones,the telephone,the telephones,phone,phones,lg phone,lg phones,lg telephone,lg telephones,cheap phone,cheap phones,cheap telephone,cheap telephones,new phone,newphones,new telephones,new telephone,refurbished phone,refurbished phones,refurbished telephone,refurbished telephones,best phone,best phones,best telephone,best telephones,phone for sale,phones for sale,telephone for sale,telephones for sale,buy phone,buy phones,but telephone,buy telephones,sell phone,sell phones,sell telephone,sell telephones,purchase phone,purchase phones,purchase telephone,purchase telephones,used phone,used phones,used telephone,used telephones,phone accessories,telephone accessories,phone deals,telephone deals,good phone,good phones,good telephone,good telephones
data cabling,data center cabling,data cable,data cable installation,voice and data cabling,data cabling company,voice data cabling,data cabling companies,data cabling installations,data cabling jobs,data cable wiring,structured wiring,network cabling services,data cabling installers,data cable types,DSL data cable,CAT5 data cable,network cabling installation,fiber cable types,structured cable,data cabling contractors,data cables,voice and data cabling,cable installers,network cable installation,voice and data cabling jobs,data network cabling,CAT cable,computer data cable,CAT 6 data cable,network data cabling,san diego voice and data cabling,data cabling solutions,cabling companies,data cable tray,data cable installers,data cable technologies,what is data cable,ethernet cable,network cabling standards,data cabling orange county,network cabling solutions,fiber optic cable,structured data cabling,CAT 5 cable,data cabling installer,fibre cable,fiber cable,data cable conduit,CAT5 cabling,ethernet cable wiring,types of data cable,network cable,ethernet cables,network cabling systems,network cabling companies,data cables for computers,data cabling contractors,cabling,fluke data cable tester,CAT5 cable,CAT 6 cable,voice and data cabling companies,voice and data cabling,network cabling,structured cabling,CAT6 cable,data cabling installer certification,CAT6,fiber optic data cable,data center cable management,data cables types,fiber optic,data cable tester,network cables,data cable installation jobs,cabling company,structured cabling system,CAT 5 cable wiring,cabling contractor,CAT5,CAT5e cable,data cable labels,cable fiber,data cable tester,IT cabling,fiber cable,voice and data cabling wiring,structured cabling contractors,data cabling services,CAT5e,CAT6 data cable,CAt 5,cabling infrastructure,patch cord,patch cable,data cable suppliers,CAT5e data cable,structured cabling installers,structured cabling certification,structured cabling,structured cable,structured wiring cable,structured cable of orange county,structured cable of CA,structured cabling jobs,structured network cabling,structured cable products,what is structured cabling,structured cabling,cable solutions,structured cabling solutions,structured cables,structured cabling standards,structural cable,structured cabling products,structure cable,structured cabling system,structured cabling systems,network structured cabling,structured cabling contractor,network structured cabling,structured cabling contractor,structured cabling certification,structured cable systems,ethernet cable,structured cabling network,structured wiring,CAT 5 cable,cabling,network cabling,structured cabling companies,structured cabling contractors,CAT 5,CAT6,structural cabling,residential structured cabling,CAT6 cable,UTP cable,CAT 5 wiring,network,RJ45,network wiring,network cabling installation,structural cable systems,structured cabling services,structured cabling diagram,cables,fiber optic cables,structured cabling design software,fiber cable,structured cabling training,CAT 5e cable,telephone cable,CAT6 cables,structured cabling best practices,CAT 5 wiring,structured cabling definition,coaxial cable,camera cables,CAT 5 cable wiring,what is structured wiring,data cable,structured cabling technician,CAT5 wiring,CAT 5 connectors,network,installation,network cable installation,structured wiring design,patch cords,CAT5 cable,network cable,structured cabling vendors,ethernet cable wiring,CAT 6 cable,structured cabling installation,fiber optic cable,cable management,cable installer,CAT5e cable,data cabling,TIA EIA structured cabling standards,LAn cable,WAN cable,LAN cabling,LAN cables,WAn cables,WAN cabling,network cabling services,structured cabling installers,CAT5e,network cables,voice and data cabling,structured cabling RFP,ethernet cables,structured cabling installers,structured cabling estimating software,CAT 6,home network wiring,twisted pair cable,cable installation,CAT 5 cables,home wiring,ethernet,cable,CAT6,cabling installation and maintenance,CAT5 vs CAT6,networking cables,
Service Coverage Areas:
Including but not limited to the following;
Aliso Viejo,Anaheim, Anaheim Hills,Atwood,Balboa,Balboa Island,Barber City,Canyon Acres,Capistrano Beach,Carlton,Cerro Villa Heights,Coto De Caza,Des Moines,Dove Canyon,El Modena,El Toro,Foothill Ranch,Nansen,Huntington Harbour,La Jolla, Beverly Hills, Brea, Buena Park, Burbank, Carson, Carlsbad, Commerce, Costa Mesa, Corona, Corona Del Mar, Cypress, Dana Point, Fountain Valley, Fullerton, Gardena, Garden Grove, Glendale, Huntington Beach, Industry, Irvine, Laguna Beach, Laguna Hills, Laguna Niguel, Laguna Woods, Ladera Ranch, Laguna Beach, Laguna Hills, Laguna Niguel, Laguna Woods, La Habra, Lake Forest, La Palma, Los Alamitos, La Mirada,Las Flores,Lido,Lido Island,Miday City, Long Beach, Mission Viejo,Moody,Newport,Newport Coast,Newport Heights,North Tustin,Ocean Veiw,Olive,Portola Hills, Newport Beach, Orange, Placentia, Pasadena, Rancho Cucamunga, Rancho Santa Margarita, Rancho,Rancho Trabuca,Trabuca,Robinson,Ranch,Ranch Rossmore,rossmore,Riverside, Menifee, Murietta, San Clemente, San Juan Capistrano,San Joaquin Hills,Smeltzer,South Anaheim,South LagunaSouth Santa Ana,Sunny Hills,Surfside,Trabuca Highlands,West Anaheim, Santa Ana, Santa Monica, San Diego, Santa Fe Springs, San Marcos, Seal Beach,Stanton,Tustin, Temecula, Upland, Villa Park, Westminster,Wintersburg, Yorba Linda, Los Angeles,San diego,Ventura,San Bernardino,Riverside,Orange County


Other Sites:


Business Telephone Systems
Website powered by Network Solutions®